Professor Freedom inducted during hall of fame luncheon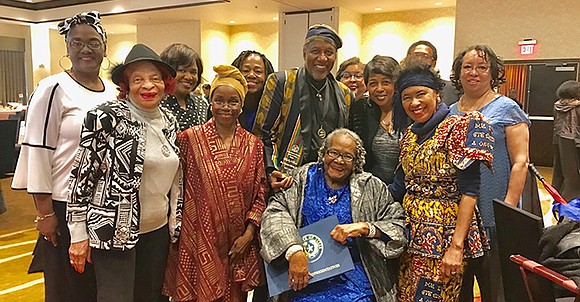 During his career, Glover has researched and located King's March 17, 1966, speech at SMU, as well as associated news articles. He also attained an M Award, the highest service award presented by the university.
But induction into the hall of fame was an unexpected accolade, after his nomination by Dallas writer Norma Adams-Wade.
"Well, I was surprised, for sure," he admitted with a bit of a laugh. "I was also very moved by the fact that I am a part of the African American cultural education movement, if you will. I was very honored and appreciative of that part because those of us who have worked in areas, some call it Afrocentric education or African American education, within the last 30 years, have been working to bring legitimacy to what we do in terms of the work and the area of multicultural education."
Glover emphasized that finding the role for the African American in education – after the formerly solid walls of segregation had been legally torn down between ethnicities on campuses – was of great importance.
But the instructor does not want to simply teach others. He would like to see other young Black men and women to consider a career in education.
"I'd say to them, it is a field that is wide open," he declared. "So many times you don't see men in that field, in elementary."
Glover affirmed this as he recalled the career path of his father.
"And we need them there, so that we can certainly guide young boys. We need young ladies there, young women, and all of them looking at issues of STEM and STEAM," he continued. "But it is a calling that I hope I can encourage young men and women to go into, that education is all our calling, and it's one that they can reach, probably, if they consider it more than many other careers, if you will.
"So many young people today I see, they want to be a hip-hop singer, they want to be the basketball superstar, you know, African American males, and they have a greater chance of becoming an educator."
2019 AAEAHP Inductees
The African American Education Archives and History Program began in February 2002 with the mission is to collect and maintain a repository of artifacts, documents and visual images that record African American education experiences in Dallas County.
Dr. Jerry R. Cummings – A tenure professor at Texas Southern University who has served as an educator, researchers, author and advocate for educational equality.
Rachel George – A champion for children who has served as an educator and district manager for Dallas ISD for 37 years.
Clarence Glover Jr. – An educator and administrator who taught African American studies at Southern Methodist University, where he served as director of Multicultural Student Affairs and an adjunct professor of African American studies. He later served Dallas ISD for 40 years from a classroom serving special needs students to central administration and the top levels of leadership.