Women Who STEAM
Mathew Shaw | 5/12/2019, 10:53 a.m.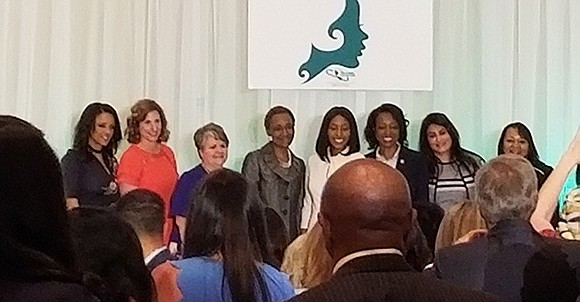 The Dallas Examiner
The applause of an enthusiastic audience echoed inside the Belo Mansion as nine local professional women were honored for their contributions to the arts and sciences, April 30.
The Dallas chapter of Links Inc., a nationally recognized nonprofit of women that focuses on community service, celebrated women in science, technology, engineering, arts and mathematics fields during its inaugural Women Who STEAM Awards Luncheon. Attendees donned their Sunday best on a rainy Tuesday afternoon to recognize women for inspiring the next generation of women.
The ceremony's goal was to give young girls an example of women succeeding in STEAM fields, according to Marissa Horne, managing director of talent acquisition and talent management for American Airlines.
"We've been planning this event for about a year now," Horne said. "We thought that recognizing women in STEAM careers would be a great way to demonstrate to our students that there are opportunities for girls in STEAM. You can be a mathematician. You can be a scientist. You can be an engineer."
The honored guests were:
• Billie Jo Johnson, executive enterprise program management office group manager for Toyota Financial Services.
• Marachel Knight, senior vice president of wireless and access engineering, construction and operations at AT&T.
• Amy L. McIntosh, pediatric orthopedic surgeon at Texas Scottish Rite Hospital for Children.
• Poonam Mohan, vice president of corporate technology at American Airlines.
• Shawna D. Nesbitt, medical director for the hypertension clinic at Parkland Health and Hospital System.
• Lorena Toffer, senior architectural project manager for Aecom.
• Kirsten Tulchin-Francis, movement science laboratory director at Texas Scottish Rite Hospital for Children.
• Ernie S. Lacy, associate dean for the department of restorative sciences at Texas A&M College of Dentistry.
• Zakiyah Johnson, digital marketing program manager for Texas Instruments.
The honorees will serve as an example for the girls in the chapter's STEAM Academy, which helps middle and high school girls develop an interest in STEAM professions, Horne said.
"We look at ways to bridge the arts with professional pursuits," she explained. "We'll have days where we take girls to dance theaters or museums, to really start to introduce them to the arts. We've also partnered with local architecture firms and brought the girls in to make some type of structure out of materials that the architects provide. You would have seen us making buildings out of spaghetti or popsicle sticks and things like that."
Currently in its seventh year, the academy has helped more than 350 girls and works with about 60 girls every year from August to April, according to Jocelyn Kidd, the Dallas chapter president.
"Our organization is making a great impact," Kidd remarked. "We're helping young girls see what they can do, they see us, they see themselves in us, and they can go forward with it."
Links also brings awareness of STEAM disciplines to niche pockets, or underserved citizens, in some communities, said Roxann Thomas Chargois, Links Inc. Western Area director.
"It's my hope and expectation that by bringing this awareness, that we will inspire them to want to take it to the next level, to want to do more, and to want to just be better citizens in our community," Chargois said.