Women Who STEAM
Mathew Shaw | 5/12/2019, 10:53 a.m.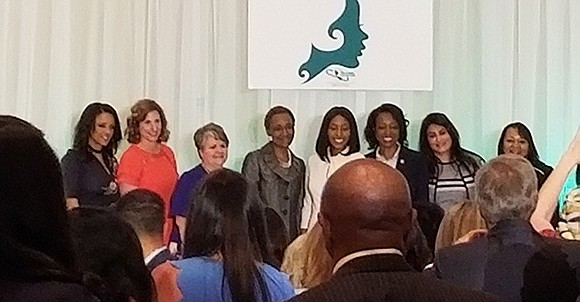 One initiative Links will undertake is encouraging marginalized populations to take part in the 2020 census, she added.
"We educate them on the importance of being counted, and also educate them on the benefits that come back to their community as being part of that process," she explained. "That also has the potential of increasing monies, government monies, that come back to their community."
Similarly, she said Links helps to bring awareness to STEAM education and to expose hidden figures in arts in the community.
"I am totally uplifted and inspired by the event this afternoon," she remarked. "I'm inspired by the women that were celebrated and honored on the stage today. I think all of them we probably could call hidden figures in their field."
Shawna Nesbitt said she felt wonderful to be recognized for the things she is passionate about.
"I hope that girls who see myself and my colleagues who've been recognized today will understand that they can do it," Nesbitt said. "They can all do it. They have the power within. It's all about developing your own confidence and diligence, and sticking to what your goals are and being passionate about that."
Lorena Toffer, an adjunct instructor at University of Texas at Arlington, said she hopes to inspire first-generation minority students.
"To see a professional that's already doing the work they're studying for, it helps them, like I'm part of their support system sometimes," she explained. "I'm not only their instructor, but their mentor, and then they're getting to network, because in the future you never know when I could be hiring them as well."
Between gleefully snapping pictures with loved ones after receiving her honor, rising star recipient Zakiyah Johnson said she felt empowered.
"For me it just started with a passion for wanting to inspire girls of all backgrounds to achieve bigger and better, and to go on to do great things," she said. "So I just hope they get to see the wonderful group of honorees from over eight different companies and say, 'Hey, that can be me one day.'"