Black Students & Teachers with Guns
Guns and safety aren't synonymous for us – Some Black Texans fear plans to arm more teachers
ALEX SAMUELS | 5/19/2019, noon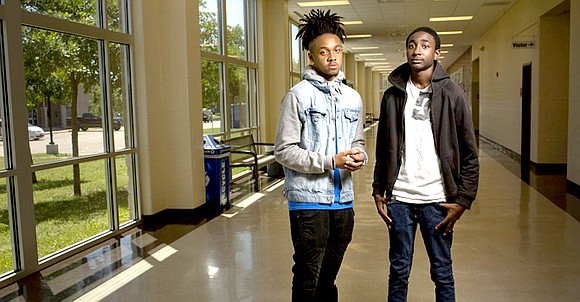 The Texas Tribune
Ahmir Johnson said he knows what can happen when people who look like him get in law enforcement's crosshairs.
The senior at Round Rock High School recalled hearing stories earlier this year of a Black student who was grabbed and thrown to the ground by a police officer just outside of nearby Cedar Ridge High School. He recounted another incident at his own school a few years back in which a school resource officer reportedly grabbed a student by the throat after being called to break up a fight.
District officials said the Cedar Ridge student was charged with assault and resisting arrest, but no criminal charges were filed in the Round Rock High incident. But because Black students are over-represented in all types of disciplinary referrals and are more likely to have their behavior addressed by school police officers than their White peers, Johnson worries about how law enforcement officers react to his fellow students of color.
And now, as Texas lawmakers look to expand the state's school marshal program in the wake of last year's deadly Santa Fe High School shooting, Johnson's concerns extend beyond school resource officers and city police. Come fall, the high school senior's worries will focus on younger Black students at schools where educators trained as school marshals can carry their concealed handguns when students are present. He's even more concerned that there could be no limit on how many marshals a school district can appoint – and that those marshals could have immunity in court for any "reasonable action" taken to maintain safety.
"We already get profiled based on the clothes we wear, how we look, our hair, what color our eyes are – and the main thing is the color of our skin," Johnson said. "[Lawmakers] can't cover up how these programs might have an unintentional impact on students of color."
The marshal program trains school personnel, whose identities are kept secret from all but a few local officials, to act as armed security officers – or peace officers – in the absence of law enforcement. Advocates for the program say it gives schools the option to implement a last-minute line of defense if there's an active shooter on campus. But gun control activists have decried the program because it puts more guns in Texas schools.
A spokeswoman for Round Rock ISD, where Johnson's brother is a freshman, said the district is not considering a marshal program for this coming fall or in the future. When asked whether the district is keeping its options open, another spokeswoman for the district said she couldn't speak to what future trustees might prioritize.
The Texas Commission on Law Enforcement has no report of a negligent discharge from any of the 170 school marshals currently appointed in the state. But lawmakers in others states with similar programs have pointed out that the proliferation of guns on campus, even in the hands of teachers, make students of color feel unsafe. As Texas lawmakers appear poised to expand the program, some fear students of color might unnecessarily be put in harm's way.