Black Students & Teachers with Guns
Guns and safety aren't synonymous for us – Some Black Texans fear plans to arm more teachers
ALEX SAMUELS | 5/19/2019, noon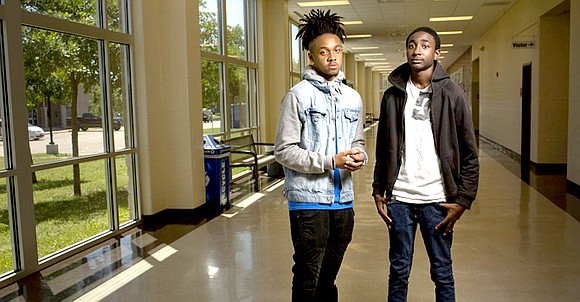 "After the Parkland shooting, African American parents [in Florida] expressed concerns that their kids might be disproportionately affected by these programs," said state Sen. José Rodríguez, D-El Paso, who voted against bills expanding the program this year. "I think it's understandable that parents might feel if we start having school marshals, minority students might be the ones getting harmed.
"People bring their biases and life experiences to the work setting – in this case that would be the schools – and sometimes those biases unfairly harm kids of color."
While there's no data saying the program so far has disproportionately hurt students of color, advocates say Johnson's anxieties aren't unfounded. And some criminal justice advocacy groups also note there's no data to back up the claim that increasing the number of police or armed personnel on school campuses actually makes them safer. Some experts also warn that increasing the number of police or armed personnel in schools can have an adverse effect on students.
"I would be a little bit more cautious and keep my eyes open if I knew my teacher had a weapon on them," said Addison Favors, a junior at Round Rock High School. "In fact, I would be more focused on that than actually learning."
"The next best thing"
The idea of arming Texas school personnel is not new. It first emerged after a shooting in 2012 at Sandy Hook Elementary School in Connecticut, which left 28 dead – including 20 children and the shooter. At the time, former state Rep. Jason Villalba, a Dallas Republican, authored the bill that created Texas' school marshal program.
When he first introduced his bill, the legislation was modeled after the federal air marshal program. Participants in the program would only be authorized to respond to an active shooter or other emergency situations that threatened the lives of public school students on campus and could only act before police arrived, according to Villalba.
The bill didn't pass without backlash. Some Democrats at the time wanted assurance that bill wouldn't become a vehicle for other gun bills, and others expressed concerns about having more guns at Texas schools.
"Anytime you have a proliferation of guns, you increase the risk somebody is going to be harmed as a result," said Rodríguez, who voted against the 2013 program. "Overall, I think school marshals give a false impression people are going to be safer, and I just don't think that's the case."
Still, just days before lawmakers adjourned for the regular legislative session in May 2013, the bill passed the Texas Senate 27-4. Former Gov. Rick Perry later signed it into law.
Villalba's bill allowed for local school districts to appoint staff members as schools marshals. Under the law, marshals have access to firearms on campus after they undergo psychological exams, take at least 80 hours of training, and obtain a license from the Texas Commission on Law Enforcement. Under Texas' program, schools can designate one marshal for every 200 students.
Senate moves to expand controversial program