Buttigieg speaks to Dallas Dems, interrupted repeatedly by protestors
SHAIA MOORE and DANIEL ESTEVAO | 5/19/2019, noon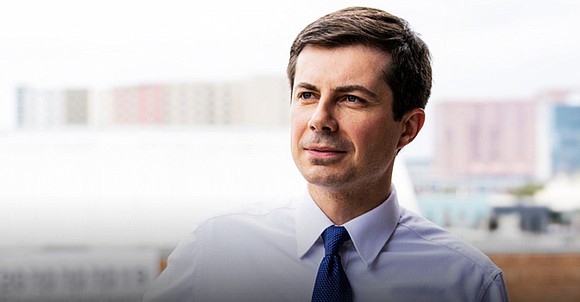 The Dallas Examiner
Prominent Democratic donors, citizens, attorneys, elected officials and members of the judiciary gathered at the Hilton Anatole May 3 for the annual Johnson Jordan Dinner sponsored by the Dallas County Democratic Party. Pete Buttigieg was the keynote speaker, replacing Kamala Harris who was originally slated for the job but cancelled due to scheduling conflicts.
Buttigieg, a 37-year-old Navy veteran currently serving his eighth and final year as mayor of South Bend, Indiana, is the first openly gay candidate to make a serious bid for the presidency. As such, he's been no stranger to controversy on the campaign trail.
The presence of protest was palpable at the event. Anti-gay and anti-abortion demonstrators stood outside the hotel as guests arrived, one dressed as Jesus holding a large cross, and others waving signs with graphic images of aborted fetuses.
For the past two months, Randall Terry, an increasingly recognizable anti-abortion agitator, and a handful of his associates have been following Buttigieg across the country as he campaigns for president. In April, they reportedly disrupted every Buttigieg event in Iowa. Not only did the group stalk him to Dallas, they also booked rooms at the Hilton Anatole the night prior to the dinner, according to a video on Terry's YouTube channel.
Additionally, over 200 people gathered at Fair Park Bible Fellowship May 2 to plan the protest and disruption of Buttigieg's Friday night appearance, as stated in a press release on Christian Newswire.
While protesters held signs outside, VIP donors inside the hotel drank and mingled on the lobby level before heading upstairs to the Imperial Ballroom. Ticket holders were offered a three-course dinner.
Full table reservations cost anywhere from $5,000 to $20,000, while individual tickets were sold for $150 each. Big donors were able to request their first, second and third choices for which elected official they would like seated at their table.
Rev. Eric Folkerth of Woods United Methodist Church opened with a prayer, asking God to bless Buttigieg and his husband, Chasten Glezman, and to give people the courage to confront racism, sexism and homophobia.
The host for the evening, Dallas County Democratic Party Chair Carol Donovan, informed everyone that nearly 700 guests were in attendance, breaking last year's record when Cory Booker brought in about 500.
Donovan then presented awards to several Democratic politicians and volunteers who have positively impacted Dallas, including District Attorney John Creuzot, who received the "Elected Official of the Year Award." The Carter High School swim team was also brought on stage and acknowledged for their recent accomplishment in becoming District 15-5A champions.
Dallas Mayor Mike Rawlings accepted the accolade of "Outstanding Mayor of the Year" before introducing Buttigieg.
"This guy is young and smart. This guy's father was an immigrant. He speaks seven languages; I can order the cheese enchilada at El Fenix. He's a Rhodes Scholar; I am not. He was a naval lieutenant serving in Afghanistan, got the Joint Service Commendation medal. This is an amazing fighting man; I was in Boy Scouts and got first class," Rawlings joked. "He is a uniter. It gives me hope for the future of the United States of America."