Dallas City Council: Homelessness, VisitDallas audit
DIANE XAVIER | 5/26/2019, noon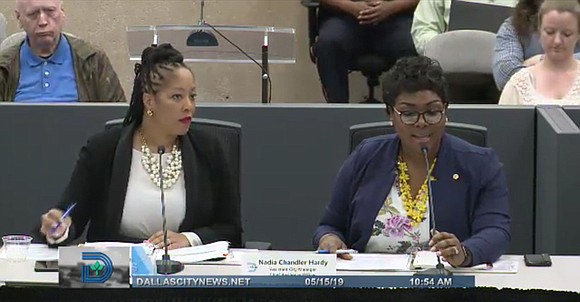 The Dallas Examiner
Tackling homelessness in Dallas and auditing VisitDallas were the topics the Dallas City Council addressed during its May 15 Council Briefing meeting.
Homelessness has increased in Dallas by 9% within the last year, according to the 2019 Homeless Count conducted by the Metro Dallas Homeless Alliance.
The city of Dallas Office of Homeless Solutions presented a strategy update on two items the organization is working on to help the homeless population. They gave an update on the inclement weather shelters and Track 4 Bond that was approved by voters in November 2017.
Monica Hardman, director of the city of Dallas Office of Homeless Solutions, started with Track 4 of the strategic plan, which is related to bond implementation and includes the $20 million that was approved by voters in November 2017.
The first three themes she presented were innovation, collaboration and leverage.
"The bond is only $20 million, and we look at this funding as being gap financing and seed money," she said. "We have to leverage private investment in order to accomplish our goal of creating 1,000 affordable housing units to serve those experiencing homelessness over the next three to five years."
Hardman said in order to leverage that money they have to be innovative and collaborative.
"We have to be able to take these proposed sites and look to create transformative development through partnerships with partners who are closely aligned with their mission and to perform the service," she continued.
The next three themes were inclusion, accommodation and alignment.
"In order for these projects to be successful, we knew that we had to have sites that were located in high-quality areas, that were near major transportation sectors, close to major employment centers, access to grocery stores and with high quality of life related to parks and libraries," Hardman said. "We are also looking to do projects that are mixed use or mixed income."
The sites had to be available, and they looked at properties that were below $5 million in terms of acquisition costs. Some of the properties they are looking at now include one on Greenville Avenue and two on Haskell Avenue.
The Greenville Avenue location would be zoned as mixed use, with 100 proposed units at a project cost of $20 million – estimating that it would cost $200,000 per unit, and the proposed population served is families.
On 2009 and 2011 N. Haskell Ave. is vacant land and OHS is looking to build eight units of residential duplex or townhome-style housing. The cost would be $1.6 million and serve seniors, transitional age youth – 18 to 24 – and veterans. The other site on 1805 N. Haskell Ave. would add three units of housing for either seniors, transitional age youth or veterans, with a cost of $200,000.
Councilman Tennell Atkins, District 8, mentioned that he was worried about the timeline to complete the project.
"We just got $20 million, not $200 million, for 1,000 houses, and that is our budget," he said. "We passed a bond in 2017, 18 months ago, and where are we today?"