Dallas City Council: Homelessness, VisitDallas audit
DIANE XAVIER | 5/26/2019, noon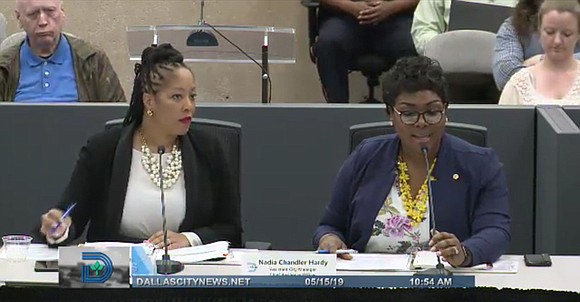 Hardman said the process could take up to 24 months to complete and that they would need to acquire sites, get approval and then get developers interest.
Atkins emphasized the immediacy in completing the project.
"Therefore, my term would be up by then," he said. "We are looking at two years, maybe three years, before we see someone move in. Five years from the start of when voters went and voted for the bond until someone can move in. That is a problem to me. If we are going to do something, we got to make sure taxpayers who went to vote for the $20 million bond, that they don't have to wait. Five years for someone to move in, so that means the homeless population would have increased.
"If we are really going to make sure the homeless are going to be taken care of, then we need to find a way to get them out of the streets and into homes and shelters. We need this shovel ready," Atkins concluded.
The City Council also expressed support for the operation of inclement weather shelters and expressed a desire for the OHS to propose recommendations that would allow faith-based organizations, such as churches, to participate and provide shelters during inclement weather.
"Inclement weather" means if the actual weather is less than 36 degrees or actual temperature is above 100 degrees during the day and above 80 degrees during the evening.
The duration would be from Dec. 1 through March 1, when temperatures are forecasted to be below 36 degrees, and from June 1 through Sept. 1, when temperatures are forecasted to be above 100 degrees during the day and evening temperatures above 80 degrees.
The City Council also discussed the January audit of VisitDallas, an independent not-for-profit group that promotes Dallas as a business and pleasure destination, according to its website.
After the review found accounting and contract issues, it was recommended that a third party adopt formal procedures for documenting the organization's expenses. As many as 18 recommendations were given and 11 were approved. One of the recommendations was to hire an independent third party to review the organization and its expenses. The not-for-profit group's contract expires in 2020.
Councilman Kevin Felder, District 7, said the organization does not take the blame alone.
"I don't think we got here through VisitDallas alone," Felder said. "The city of Dallas did not have proper oversight of VisitDallas. The city of Dallas did not do what they were supposed to do."
Sam Coats, interim CEO of VisitDallas, explained why the organization is important to the city.
"Dallas has tremendous economic benefit from tourism, meetings and conventions that come here every year," he said. "Our hotels and restaurants are dependent on it. It is important to the economy of the city. It puts Dallas on the market as a city to visit but also to locate a business."