Farmer Geoff, Chef Trina offer 'fresh attitudes' for young appetites
MIKE McGEE | 5/26/2019, noon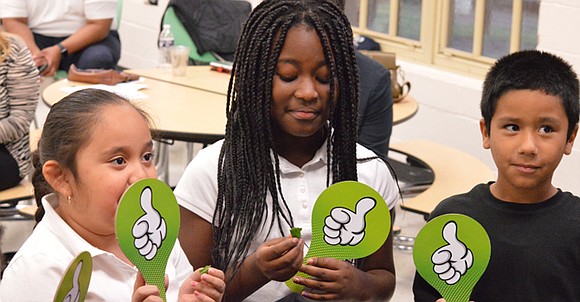 The Dallas Examiner
Farmer Geoff and Chef Trina introduced young palates to a "fresh attitude" toward farm fresh fruits and vegetables as the Dallas Independent School District recognized Fresh Attitude Week during the first week of the month as a way of promoting more varied and beneficial foods to youngsters in their formative years.
Second graders at N.W. Harllee Early Childhood Center took part in the healthy eating showcase, hosting Primal Gardens owner Geoff Gray and executive chef Trina Nelson with Dallas ISD Food and Child Nutrition Services on May 8.
The district is a member of the Urban School Food Alliance, a coalition of large districts across the U.S. that participate in Fresh Attitude Week.
The observation is a yearly event in collaboration with the French Department of Agriculture and the French Inter-Branche Association of Fresh Fruits and Vegetables, intended to highlight fresh fruits and vegetables in school meals, which will expand students' palates and broaden their attitudes toward food, according to a written announcement released by the alliance.
"Many inner-city students live in food deserts with little access to fresh items, so it is important to educate them about a variety of produce," the statement concluded.

Farmer Geoff grows a variety of vegetables, edible flowers and tilapia on his land in Seminole, Texas, using a method of sustainable farming called aquaponic production. Part of his demonstration to the students featured bib lettuce grown without soil on top of a fish tank. The water and fish fertilize the plants and the plants provide partial nutrition to the fish, supplemented with hand-feeding.
The children were eagerly engaged in the presentation, not only curious about the relationship cycle between Farmer Geoff's plants and fish, but also with the use of beneficial insects, such as butterflies, to keep plants healthy and pest free. As the grower passed around wrapped bowls filled with vegetation and live ladybugs – which eat other detrimental insects – he explained how this more natural style of farming was better in terms of reducing chemical residues than what can be found on more traditional store-bought food.
"There's a lot that we use," he commented about some of the insects utilized in his farming. "But they're so small you have to see them in a microscope."
Farmer Geoff admitted that aquaponic and other forms of specialized farming often resulted in more expensive fruits and vegetables, but added that flavor and texture was noticeably improved and the size of the yield was often bigger.
Those claims were tested when Chef Trina began her segment of the assembly, which included sampling goods from the farm versus a local grocery store, and a recipe demonstration of a strawberry vinaigrette dressing.
She emphasized that behind the intellectual discovery and mental engagement that comes from hands-on learning, the event was designed to introduce younger students of the district to a different way of farming.
"The flavor is totally different," she said of the resulting plants. "The one that really stood out to me was the kale. The kale that we get in our regular grocery stores, it's dry, it's kind of bitter. The kale that Farmer Geoff grows, the leaves are tender. The flavor is wonderful. It's still got a little bitterness to it because kale is a bitter green; however, it's not that one that kind of makes you cringe, and so the kale really stood out to me."