Farmer Geoff, Chef Trina offer 'fresh attitudes' for young appetites
MIKE McGEE | 5/26/2019, noon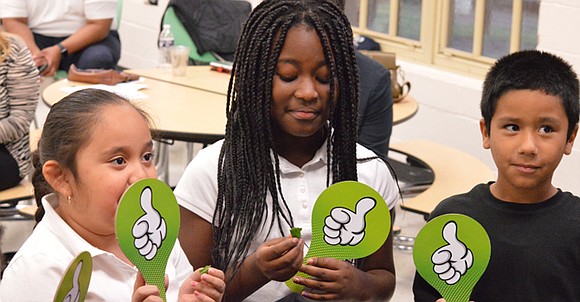 Nelson, who said that she spent five years teaching at Le Cordon Bleu where she specialized in nutrition classes, also noted that each like vegetable was unique, as nature intended.
"And so I explained, here's a store, and you see the Roma tomatoes – every one of them looks exactly the same. There's not really a lot of flavor, and so with our real, aquaponic-grown, every tomato has its own life. Every tomato is doing its own thing."
She compared such farming to that of heirloom vegetable varieties or organic gardening. "And the flavor, the kids said themselves, 'It's sweeter.'"
During the taste demonstration, students were divided up into groups to sample Gray's produce and given hand-held signs they could flip – a red thumbs-down symbol on one side for a food they didn't like, and a green thumbs-up symbol for the food they preferred. It was repeatedly apparent that the vegetables grown via the aquaponic method were favored by the vast majority of children.
As she was thanked and praised by the students after the demo, the chef recalled the quandary of food deserts across the district.
"A lot of our students, they see fruit in a can or vegetables in a can," she complained about the more common processed fare. "We did a survey at one of our middle schools, and I brought a whole pineapple. You'd be amazed at the number of children who had never seen a whole, uncut pineapple. And so, by us partnering with our local farmers – Farmer Geoff and things like that – we are able to reintroduce our students to fresh fruit and vegetables."
Despite the higher cost of such produce, a larger plant yield may ease the price difference some, and better-tasting food could lead to more product on school lunch trays being eaten rather than getting thrown out. The chef shared her thoughts on the likelihood of such innovative growing techniques becoming further integrated into the district.
"Definitely, definitely," she affirmed. "Because here's the thing: We have to start getting food back. Number one, it's healthy for our children, and I mean, what's more worth an investment than that?" she offered.
"So, by partnering with Farmer Geoff and other local farmers, and because of the volume that we buy, we can procure some pretty good stuff at a pretty good price."
She admitted that it may mean removing some things from the menu, but the long-term advantage makes investigating different food sources worthwhile.
"Budget is always a factor; however, there's ways to counterbalance it out. And at the end of the day, what's the big picture?" Nelson posed, philosophically. "We want strong, healthy kids. And we want kids that can be exposed to what real produce is."