O'Rourke offers inspiring message to Paul Quinn grads
MATTHEW HIRST | 5/26/2019, noon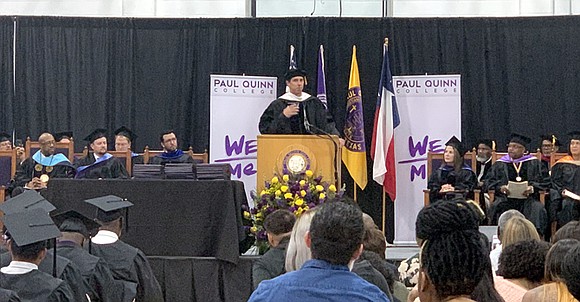 The Dallas Examiner
The morning of May 4 marked a triumphant moment for 59 of Paul Quinn College's 2019 graduating class as they walked across the stage to receive their long sought-after diplomas. Notable speakers in attendance included Democratic presidential candidate Beto O'Rourke and Plano Mayor Harry LaRosiliere.
The Quinnite graduates not only have a hearty education to take pride in, but they also do so with less debt than your average college graduate – a feat made possible due to Paul Quinn College President Dr. Michael J. Sorrell and a largely successful implementation of the Urban Work College Model.
This success and hard work from the faculty and staff hasn't gone unnoticed either, especially when considering the $1 million investment from Strada Education Network for expansions in October 2018.
"The legacies of slavery, of segregation, of Jim Crow, of suppression, in every single part of this country – now in the year 2019 – is alive and well. … Power and privilege in this country will continue to accumulate more power and privilege. There is an inertia there that cannot be stopped unless we choose to stop it," O'Rourke said. "At this moment, it must become absolutely clear to every single one of us, that progress will not sustain itself, that history can roll in reverse, and that no victory is final, and the work is never finished.
"We can take inspiration in those who came before us and fought for these victories, but we can never take comfort in what they've done, because we too must fight. President Sorrell reminded me routinely, that no great thing ever comes out of a position of comfort. The good news is that this moment, as perilous, as tough, as challenging as it is, has given all of us an opportunity for greatness. So, let's make this decision now, that we will go out there and do great things, and we will do them together, truly living 'We Over Me.'"
O'Rourke spoke on an array of subjects that are important to minority communities, such as voter suppression at the hands of the Texas State Legislature and how it relates to Texas ranking 50th in voter turnout, the importance of DeSoto passing its paid sick leave bill, and how prison reform in Texas is far from being solved.
Furthermore, he spoke about former Paul Quinn student Dexter Evans' "We Are Not Trash" initiative and how necessary it is to speak out against the preordained powers that exist in Dallas.
Many others also spoke during the graduation ceremony, including co-valedictorians Hugh Washington and Lorenza Najera, Vice President of Academic Affairs Chris Dowdy, as well as Sorrell, who welcomed the crowd early and played emcee throughout the rest of the ceremony to help with transitioning between speakers. Speaking early on in the ceremony, Washington, the first out of the co-valedictorians, shared his life story and encouraging messages about all Paul Quinn has done for him.
"I charge you to trust the process. You are here today because of your resiliency, your grit, your determination, and everything that you have put forward in order to be here today. So, I thank every professor, every advisor, administrator, faculty and staff, and our own leader, commander, President Michael J. Sorrell, for teaching us to lead from wherever we are," said Washington. "Live a life that matters. I want you to understand that loving something greater than yourself is one of our most important 'L's' that we learn here as a Quinnite. And I want you to know that we will forever leave places better than we found them."