O'Rourke offers inspiring message to Paul Quinn grads
MATTHEW HIRST | 5/26/2019, noon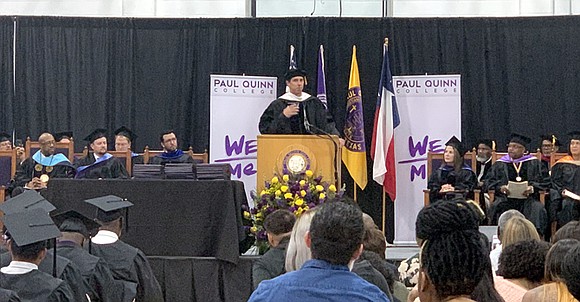 The ceremony was riddled with requests from speakers and staff that graduates not forget what they learned at Paul Quinn. Washington's message about not forgetting the "Four L's" – leave places better than you found them, lead from wherever you are, live a life that matters, and love something greater than yourself – is a great example of that. Such sentiments were echoed by Sorrell, who spoke on taking pride in yourself and your journey, while also adding some thoughtful comments and prayers of his own.
"Thank you for the honor of being your college president and welcome to the rest of your life as Quinnites. It is special what you have accomplished, but you are not done with your accomplishments at all," Sorrell said. "I pray that you will live a life that matters. One where history will remember your name. I pray that you will leave places better than you found them. I pray that when you leave, you will find a way to lead with love. I pray that you will find something and someone in your life that you can love more than yourself.
"I pray for you that you will forever remember that you were built to lead. And when you are built to lead, you are not built for the sun, because anyone can lead when the sun comes out. You are built for those moments when it's raining, when it is difficult, when it is challenging. I pray at those moments you will remember what we have done here together and push yourself forward.
"I pray that you will embrace the Homeric ideals and learn both to be speakers of words and doers of deeds. I pray that your work ethic will bless you enough riches so that your children and the rest of your progeny will live a life free of poverty and despair. I pray that when you succeed, you will let them know where you came from."