Upscale apartment complex heads to Red Bird
DIANE XAVIER | 5/26/2019, noon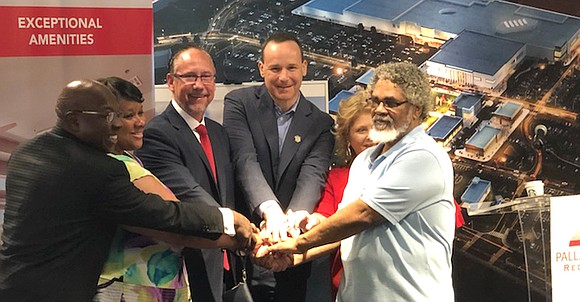 The Dallas Examiner
Out with the old, in with the new. The RedBird Mall area is getting a face-lift with the addition of a new luxury apartment community that will be a part of Reimagine RedBird.
Reimagine RedBird is a $160 million project that will transform RedBird Mall into a mixed-use development site that will feature a work, eat, play, stay destination.
"'Mixed use' means rather than just retail, it is retail, office, hotel and apartment put together in all one community," said Peter Brodsky, majority owner and developer of Reimagine RedBird.
The apartment complex, Palladium RedBird, will feature modern, amenity-rich residences with 300 units that will have upscale luxuries, such as a swimming pool, fitness center, playground and upgraded appliances that also include granite countertops.
Reimagine RedBird partnered with Palladium USA to build Palladium RedBird.
Brodsky said the goal is to deliver a high-quality, mixed-use development to the Oak Cliff community.
"One of the key anchors for any mixed-use development these days is apartments," Brodsky said. "Now, the added challenge that we have at the RedBird site is that there really aren't any high-quality, class-A apartment buildings in the area. Often, when we use the word apartments, people often in the community said that evokes images of a Section 8 housing development and not a high-quality apartment building you find in Uptown."
The 6.37-acre apartment community is going to be located in the southwestern portion of the RedBird Mall site, where the J.C. Penney department store used to be. Preleasing is set to begin in the summer of 2020.
Tom Huth, president and CEO of Palladium USA, said prices vary for the apartment units.
"It is based on a sliding scale based on a person's income and can vary anywhere between $400 to $1050 per one-bedroom apartment, [and from] $500 to $1300 for a two-bedroom unit," Huth said. "The Oak Cliff community has not seen anything like this, and it is exciting to be a part of this."
The groundbreaking for the residence will be taking place in the next two months.
"A very high percentage of the units will be affordable and geared towards workforce housing, such as those like police officers, teachers and firefighters pay class. The other units will be priced at market price," he continued. "So the units will be some of them priced affordable and some market price. Thirty percent will be what the market-based apartments are and are a lot more expensive than the studio apartments."
For the apartments that are designated as affordable, applicants must show their income and rent is based on a percentage of that income, according to Brodsky, who said the apartment prices are still a work in progress.

"Reimagine RedBird is a project that aims to return the old RedBird Mall to a place of pride and quality in the community," Brodsky said. "Instead of it being an indoor mall with great stores, we want to turn it into a mixed-use development that has restaurants, outdoor green space, and where you can live, work and play and shop. What we are trying to do is reverse the last 20 years where it really has been a neglected property. It really hasn't been invested in, and it hasn't served the community's needs, which has caused most people in the community to travel elsewhere."