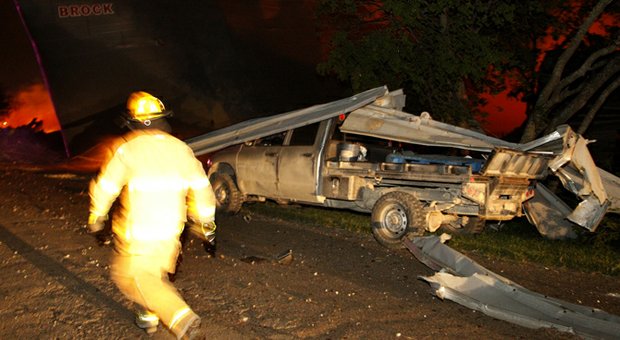 A firefighter walks past a pickup truck with debris from a storage shed on it at a fertilizer plant in West, Texas after an explosion Wednesday. A massive explosion at the fertilizer plant near Waco that night injured dozens of people and sent flames shooting into the night sky, leaving the factory a smoldering ruin following a blast that damaged buildings for blocks in every direction.
The explosion killed as many as 15 people and injured more than 160 others. West Fertilizer plant explosion occured in a small farming community about 20 miles north of Waco. The Texas Commission acted after receiving a complaint in June of 2013 of a strong ammonia smell. The West Fertilizer Co. said it had 54,000 pounds of Anhydrous ammonium, which can be used for both fertilizer and explosives.
Stories this photo appears in:

Organizations and Businesses provide asistance, offer prayer
Dallas Fire-Rescue Captain Kenny Harris, 52, was initially reported missing after yesterday's fire/explosion incident at a fertilizer plant in West, Texas. Harris lived in West, was off duty at the time of the incident and was not believed to be involved in any firefighting activity.