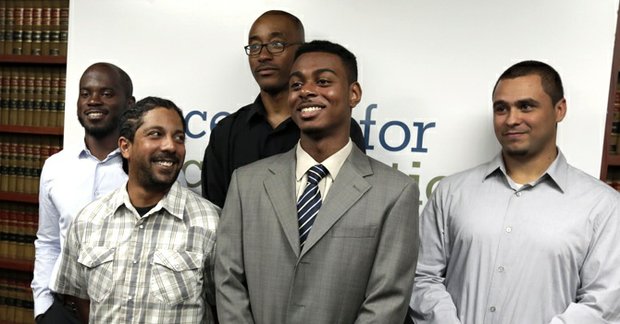 Plaintiffs in the stop-and-frisk case, from left: Nicholas Peart, Lilat Clarkson, Leroy Downes, Devin Almonar and David Ourlicht, at the Center for Constitutional Rights, in New York, Monday, Aug. 12. U.S. District Judge Shira Scheindlin ruled that the New York Police Department deliberately violated the civil rights of tens of thousands of New Yorkers with its contentious stop-and-frisk policy, and an independent monitor is needed to oversee major changes.
Stories this photo appears in:

The stop-and-frisk policy practiced by the New York City police department was little more than "indirect racial profiling," according to a federal judge who ruled that police routinely violated the Fourth and 14th Amendment rights of Blacks and Latinos.