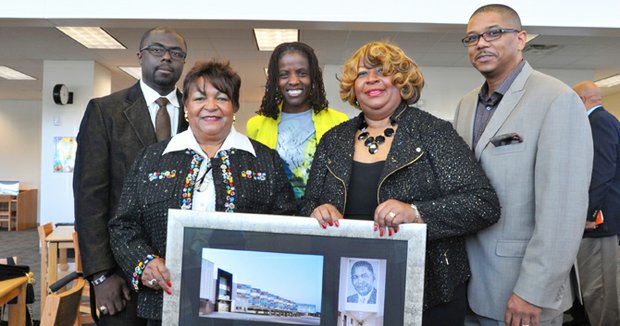 Dallas ISD Trustee Bernadette Nutall (center) joins (left-right) Derwin Broughton, Project Architect, KAI Texas, Dr. Barbara Dade Martin and Ms. Billy Joyce Sandord (daughters of the late Billy Earl Dade), and Darren James, Pres., COO, KAI Texas for the dedication of the new middle school.
Stories this photo appears in:

Two daughters of longtime Dallas educator Dr. Billy Earl Dade joined district officials, parents, students and elected officials on Nov. 8 at the dedication of the new school named in his honor. The new campus combines Pearl C. Anderson Middle Learning Center with Billy Earl Dade Middle School.