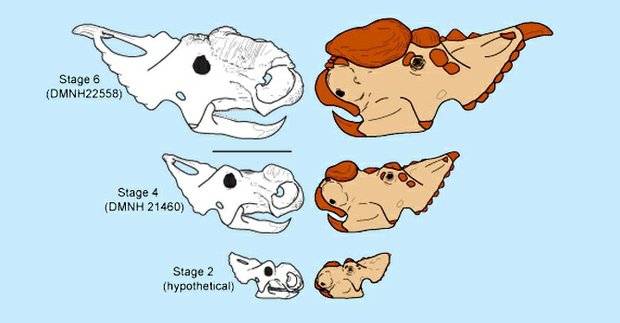 Twenty months after announcing their discovery of a new species found in Alaska called the Pachyrhinosaurus perotorum, paleontologists from the Perot Museum of Nature and Science in Dallas have since uncovered a juvenile specimen that came from the same hole in the ground. The scientific paper describing the find – entitled "An immature Pachyrhinosaurus perotorum(Dinosauria: Ceratopsidae) nasal reveals unexpected complexity of craniofacial ontogeny and integument in Pachyrhinosaurus" – was posted late yesterday on the prestigious science journal. Shown here is a series of Pachyrhinosaurus perotorum skulls (on left) and stylized life reconstructions (on right) at three (of a proposed six) different life stages.
Stories this photo appears in:

Paleontologists from the Perot Museum of Science and Nature in Dallas have uncovered a juvenile specimen in the same ground 20 months after announcing the discovery of a new Alaskan species called the Pachyrhinosaurus perotorum.