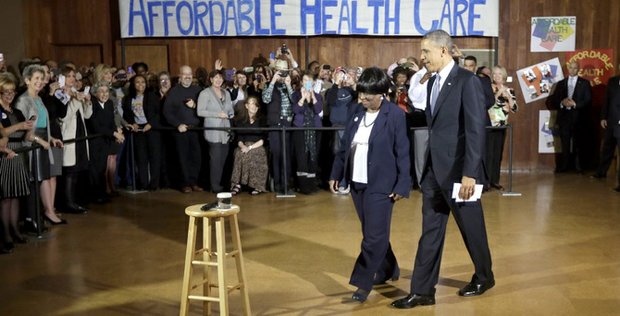 President Barack Obama walks in with ACA volunteer Edna Pemberton before speaking with other volunteers who helped people enroll through the HealthCare.gov site at Temple Emanu-El, a Dallas Area Interfaith, Nov. 6. Obama traveled to Dallas and other cities in Texas to discuss health care and raise money for the Democratic party.
Stories this photo appears in:

Obama: No other state needs coverage more
Amidst a massive website failure and overall staunch opposition in Texas to the Affordable Care Act, President Barack Obama traveled to Dallas encouraging ACA volunteers at a synagogue, Temple Emanu-El. The volunteers have assisted consumers with their enrollment in the ACA through the HealthCare.gov website which has received an overwhelming amount of criticism after consumers either received error messages or were rerouted, in the middle of enrollment, to begin the process over again.