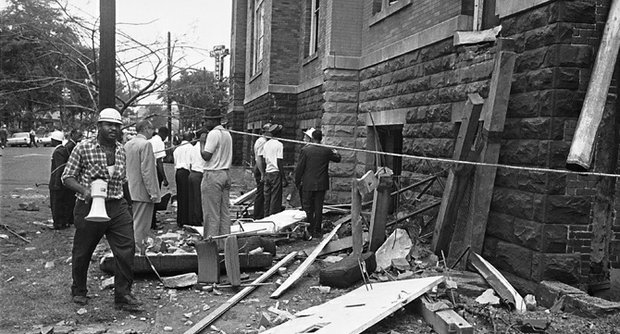 A civil defense worker and firemen walk through debris from an expolsion that struck the 16th street Baptist Church, killing and injuring several people, in Birmingham, Ala., on Sept. 15, 1963. The open doorway at right is where at least four persons are believed to have died.
Stories this photo appears in:

Planners of a memorial to honor the four girls killed in the 1963 bombing of the 16th Street Baptist Church in Birmingham say they are nearing their goal of raising $250,000. Four Spirits Inc. on Sunday announced that collections and commitments for the design, construction and installation of the project have surpassed $200,000. Four Spirits Inc. is a nonprofit organization formed to collect money and establish the memorial.