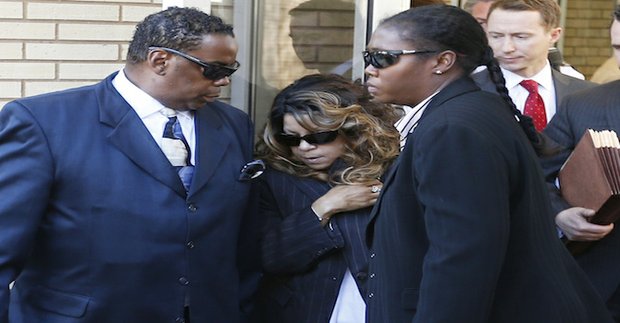 Tyka Nelson, center, the sister of Prince, is escorted by unidentified people as she leaves the Carver County Courthouse Monday, May 2, 2016, in Chaska, Minn. where a judge has confirmed the appointment of a special administrator to oversee the settlement of Prince's estate. The pop singer died on April 21 at the age of 57. (AP Photo/Jim Mone)
Date : May 02, 2016 12:25:44 PM
Source: ap
Stories this photo appears in:

STEVE KARNOWSKI and KEVIN BURBACH
Five of Prince's six surviving siblings appeared in court Monday for the first hearing to start sorting out an estate certain to be worth millions, a task complicated because the star musician isn't known to have left a will.