We have known for many years – and learn anew every day – that dignity and freedom come only to those who not only dream of it and yearn for it, but who will act and sacrifice for it.
Some of us are in positions where we can and must give more of ourselves than others. That is the nature of our struggle. But there are time and places where the burden, the cause, can be shared equally by all. This – now – is such a time. In communities throughout our country, Election Day is now at hand.
Your vote is not a small contribution to the struggle for freedom. It is a large – as significant – as any other any of us can make.
On behalf of all those, in the South, who cannot vote this November, but through the power of your vote shall yet be free to cast their ballots, I appeal to you – to each of you – to go to the polls and vote!
The struggle for dignity and freedom goes on continually, and on many different points. A young Southern student risks jail and injury by participating in sit-ins, a Northern adult walks a picket line, a journalist appeals to reason through law, and a worker rises at his union meeting to read a resolution condemning bigotry and inequality.
Each of these – each of you – speaks and acts as time and opportunity demand and permit. But there is one blow for freedom which we can and must all strike together. It is the blow which racists feel at the ballot box when we all register and vote. The time for this may vary slightly from one community to another, but for all who are serious about freedom the time is now.
If you would be truly free, if you would leave an inheritance of dignity and equality for your children, you will register and vote. There is no short-cut to freedom, but the road is shorter through the ballot box. On behalf of those who struggle at this very moment for the freedom for us all, I ask you – register and vote.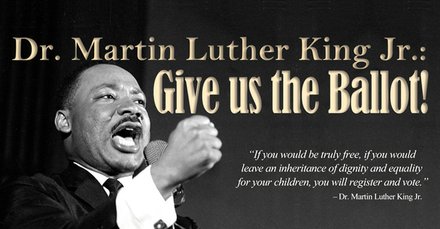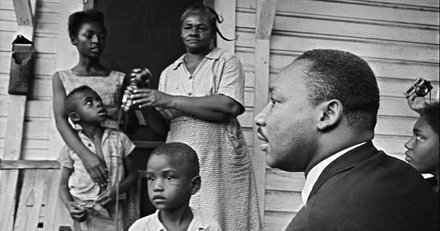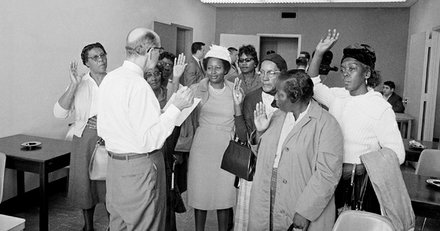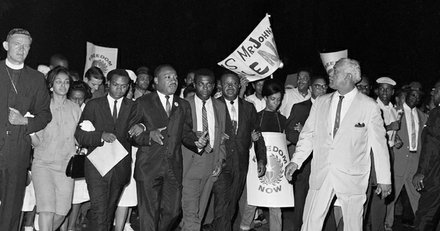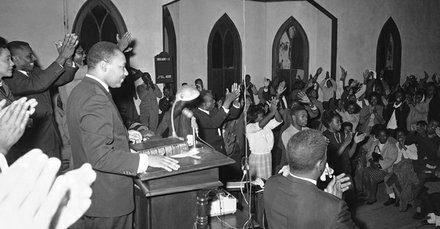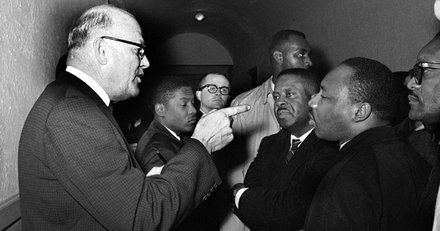 Brief timeline
Photo 2: Dr. Martin Luther King Jr., right, chats with Greenwood African Americans on their front porch during his door-to-door campaign, telling all African Americans to register to vote in Greenwood, July 21, 1964.
During a five-day tour of Mississippi towns, Dr. Martin Luther King Jr. informed journalists that his Freedom Democratic party wants federal marshals to guard African American voting rights as he stands at the pulpit of Methodist Church in Jackson, Mississippi, July 22, 1964.
Photo 3: Dr. Martin Luther King Jr., who was attacked when he registered at a White hotel, says in Selma, Alabama, Jan. 19, 1965, African Americans will march on the Dallas County Courthouse again and that those seeking to register to vote will use the front door. African Americans who sought to register were forced to line up in an alley beside the courthouse.
Dr. Martin Luther King Jr. is arrested with more than 200 activists while walking from the Brown Chapel A.A.E. Church to the courthouse, Selma, Alabama, Feb. 1, 1965..

Dr. Martin Luther King Jr. told journalists in Selma, Alabama, on Feb. 5, 1965, that he felt there was a need for new legislation on the right to vote. He vowed to continue the voter registration drive "until the victory is won." King was bearded following a five day stay in jail.
Photo 4: A courthouse official administers the oath to voter registration applicants in Montgomery, Alabama, Feb. 9, 1965. Dr. Martin Luther King Jr. led a group of almost 200 African Americans to the registrar's office in a voter drive.
Photo 5: Registrar Carl Golson shakes a finger at Dr. Martin Luther King Jr. during a meeting at the courthouse in Hayneyville, Alabama, March 1, 1965. King inquired about voter registration procedures but Golson told him that if he was not a prospective voter in Lowndes county, "It's none of your business." King visited two nearby counties after leading a voter registration drive in Selma.
Bloody Sunday: As 600 civil rights marchers on their way to the state capitol in Montgomery on a mission to demand the right to vote for all citizens began to cross the Edmund Pettus Bridge in Selma, Alabama, police and mounted officers dressed in riot gear sprayed them with tear gas, beat them with billy clubs, and trampled them with their horses, March 7, 1965.

On March 21, 1965, Dr. Martin Luther Jr. led 3,000 marchers from across the country on a final march for voters' rights across the Edmund Pettus Bridge. Afterward, he made his address from the steps of the capitol.
Photo 6: Dr. Martin Luther King, center, leader of the Southern Christian Leadership Conference, leads a parade of civil rights marchers from a rally in a church to Lafayette Park, opposite the White House in Washington, Aug. 5, 1965. The march capped two days of street corner rallies in Washington. On Aug, 6, the Voting Rights Act was signed into law by President Johnson, and King stated that he hoped to register 900,000 Blacks to vote in Southern states.