'The World is Watching' Zimmerman trial
Two attorneys monitoring trial predict different verdicts
James Harper | 7/11/2013, 1:15 p.m. | Updated on 7/12/2013, 10:41 a.m.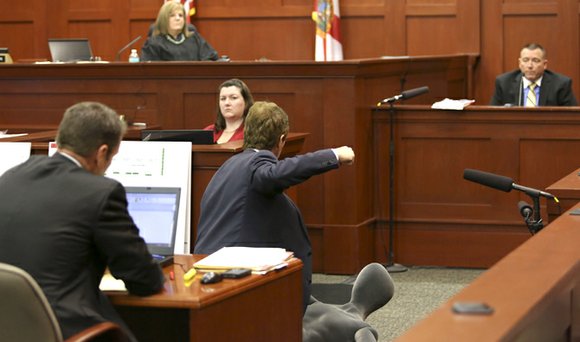 Williams explained, "If there was any physical contact by Zimmerman, he could be seen as the aggressor and self-defense cannot be used." He also noted, "I do believe there could be a powder keg going off – if there is a not guilty verdict.''
Zimmerman's profane words
Inside the courtroom this week, jurors got to hear Zimmerman tell his side – through phone calls and video.
In a phone call with a police dispatcher minutes before he shot Martin, Zimmerman said offhandedly "those (expletive) punks.''
On Tuesday, that phrase became one of the most important of the trial so far.
Chris Serino, the Sanford police detective who led the homicide investigation, told jurors that when Zimmerman said it, that showed the neighborhood watch volunteer had "ill will" toward Trayvon.
Up to that point – although they had put on more than six days of testimony – prosecutors had failed to show one of the key elements they must prove to convict Zimmerman of second-degree murder: that the defendant acted with a depraved mind, hatred, malice, evil intent or ill will toward the high school junior from Miami Gardens.
Assistant State Attorney Bernie de la Rionda suggested that when Zimmerman called Trayvon a "punk," he was profiling the teen as a criminal.
Zimmerman didn't say a word in court Monday, but jurors spent much of the day hearing from him as prosecutors set about trying to catch him in what Assistant State Attorney John Guy called a "tangled web of lies."
Guy had told jurors in his opening statement, "The truth about George Zimmerman is going to come directly from his mouth and from the lies that he told."
The struggle
On Monday, prosecutors played four statements Zimmerman gave to police – one a video-recorded walk-through the day after the shooting.
In each, Zimmerman gave the same general story, but some details changed, especially about what Martin said and what happened as they struggled on the ground.
In each, Zimmerman consistently maintained that he found Trayvon suspicious because although it was raining that night, Feb. 26, 2012, the Miami Gardens teen was standing in the yard of a Zimmerman friend whose home had been burglarized.
Zimmerman called police, then followed Martin on foot, he said. He lost him so Zimmerman turned back toward his truck and was leaving. Then the two came face to face.
There was a short exchange of words, Zimmerman said, then Trayvon punched him in the nose, knocking him to the ground. The teen then got on top of Zimmerman and began hitting him and slamming his head against the sidewalk, he said.
Accounts varied
"In a statement he wrote for police that night, Zimmerman added, "My head felt like it was going to explode."
But he offered conflicting accounts. He originally told police he was not following Martin – that he got out of his truck because he was trying to find a street sign to pass along better location information. But in an interview three days later, Zimmerman said something different and was challenged.
"I wasn't following. I was just going in the same direction."
New charges
Today, the state prosecutors asked the judge to allow the jury to also considers lesser charges of felony murder and manslaughter. It backed up their felony murder request with a request that child abuse charges could also be allowed against Zimmerman. The defense laid out a case against both charges. The state soon withdrew their request for felony murder to be considered. After further arguments, the judge said she would allow the jury to consider manslaughter as a lesser charge.
Closing arguments are also being heard today and Friday.
The Dallas Examiner contributed to this report.